Flightcase accessories
Accessories, Fittings & Flightcase parts
It is the many small details and features, as well as selected fittings and hardware specially developed for Amptown Cases, which ensure the special quality and durability of an Amptown flight case.
In addition to some standard accessories that are used with our flight cases, most of our hardware is specially made for us and according to our requirements:
the aluminium edges and closing profiles, which are a bit harder than usual on the market.
the original Blue Wheels with special rubber compound and reinforced casing.
the innovative Butterfly with patented locking technology.
the 9-hole ball corner, which holds everything together
and much more, which makes up the unique quality of an Amptown flight case.
Butterflys
Our butterfly closures made of galvanised steel are available in two versions.
Both the large and small locks feature the locking mechanism co-developed by Amptown Cases, which pulls the locking hook out of the lock when opened and automatically returns it when closed.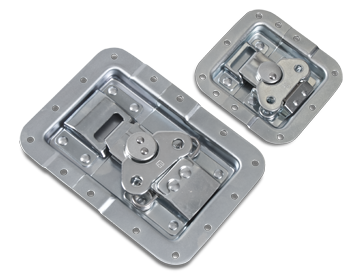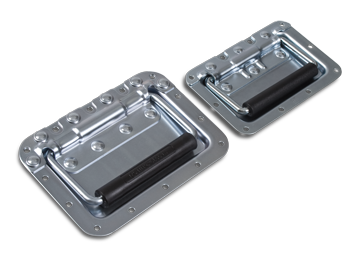 Handles
Large and small folding handles made of galvanised steel, spring-loaded and recessed in a 15 mm deep mounting shell.
The small folding handle is used in our standard series, the large one in the professional series.
Both folding handles are designed for the toughest loads and have proven themselves in everyday use for years.
Ball corners
Our large ball corner is a special distinguishing feature of our flight cases. This special model has been further developed by Amptown Cases and is characterised by its 9 rivet holes and the cranked legs. Made of galvanised, 2mm thick steel, this ball corner is suitable for the toughest applications.
The small ball corner with 6 rivet holes is used in our standard series. Made of 1.2 mm galvanised steel, this ball corner also offers comprehensive protection for smaller flight cases.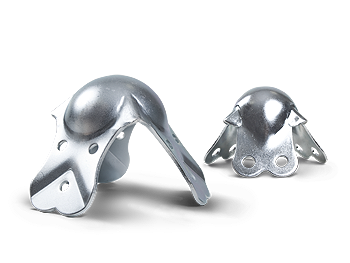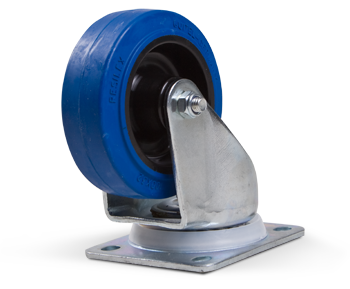 Blue Wheel
We have a very special history with the "Blue Wheel":
In the early 80s, only black castors were mounted under flight cases.
In search of a heavy-duty castor that had to withstand even the toughest loads, we were offered a new and extremely hard-wearing castor. When our managing director spontaneously asked: "Is this also available in blue?", this castor was produced for us in the colour blue. This blue castor quickly established itself in the event industry and became the epitome of particularly robust castors. Today, blue castors can be found under almost every flight case and various castor manufacturers offer blue heavy-duty castors. We continue to rely on our original, which has been improved over the years.
And who knows, if our company colour had been green back then, maybe all flightcase castors would be green today.
Label Dishes
Label Dishes made of galvanised steel for Tour Labels are available in three different sizes:
Small: 188x138mm
Medium: 218x158mm
Large: 298x198mm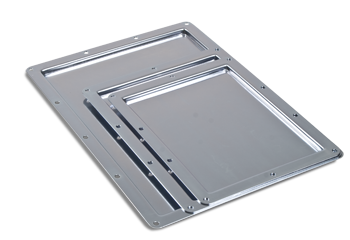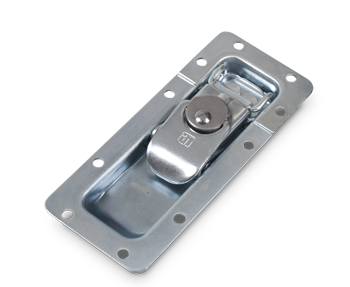 Mini Catch
The Minicatch is made of galvanised steel in order to be able to equip small cases, such as a 2U double door rack, with recessed latches.
Stack built-in tray
In order to be able to stack flight cases with wheels, we use installation trays made of galvanised steel.
The installation trays are matched to the size of our Blue Wheels and have external dimensions of: 130x89mm.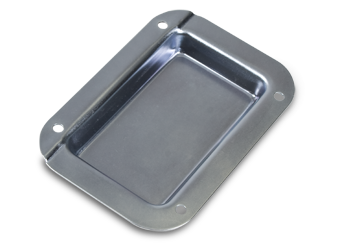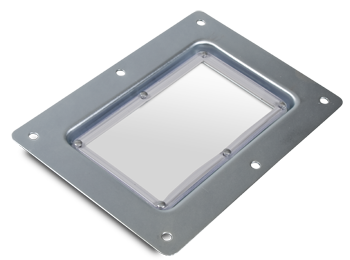 Scanner window
Scanner or barcode windows allow barcodes to be scanned without having to open the flight case.
The scanner windows have external dimensions of: 166x94mm.
Stacking mandrel and stacking trough
Smaller flight cases can be safely stacked on top of each other with the help of the stacking pins and stacking troughs.
The stacking pins and stacking troughs are made of 2.4 mm galvanised steel.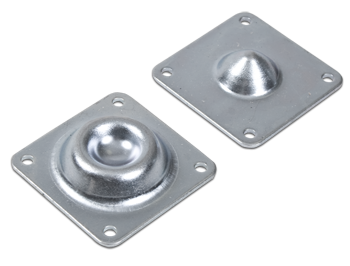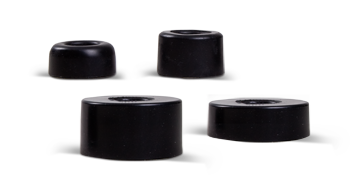 Rubber feet
Rubber feet give smaller flight cases a secure stand and also protect the corresponding standing surface.
We offer rubber feet in four different sizes:
Rubber foot large & high: 38x20mm
Rubber foot large & flat: 38x10mm
Rubber foot small & high: 25x11mm
Rubber foot small & flat: 25x15mm