In the beginning there was rock 'n' roll
and in 1973 the company Amptown Electroacustic was founded. Amptown became the specialist for electric and electronic musical instruments, far beyond Hamburg's borders. High-quality equipment also required the appropriate packaging for transportation and so the first Flightcases were imported from England until Amptown Cases began in 1978 and was able to establish itself as the source for Flightcases .
With a handful of employees, the first Flightcases were built in the old factory on Alsterdorfer Strasse and with the move to Bramfeld, professional structures soon became apparent.
Amptown Cases is Germany's oldest flight case manufacturer and, thanks to its networking within the Amptown group of companies, which consisted of Amptown Elektroakustik, Amptown Systemcompany, Amptown Lichttechnik and Amptown Verleih, always has its finger on the pulse of the event and media industry.
As one of the first companies in the event industry, Amptown Cases has always been able to quickly offer the right packaging solutions for its customers in this rapidly growing market.
Quality and innovation as well as customer satisfaction have always been the success factors of our company.
More and more national and international customers placed their trust in Flightcases with the blue eagle, and numerous in-house innovations established themselves as the industry standard over time.
The shock-absorbing 19-inch racks, ABS rack for short, the universal TRANSflex transport case and the contour-precise SiP integral foam inlets are now indispensable in the event industry.
AmptownCases opened an office in Peterborough to further serve the international market. Capacity was also further expanded in Hamburg. With the plant expansion in 2004, Amptown Cases produced at two locations and rented an additional external warehouse in order to be able to meet the constantly increasing demand more quickly.
The constant growth and the desire to combine the production facilities soon made it necessary to look for a new location. In 2009, the company moved to Beckedorfer Bogen in Seevetal, where 65 employees have been manufacturing Flightcases for the entire global market on an area of over 12,000 square meters ever since.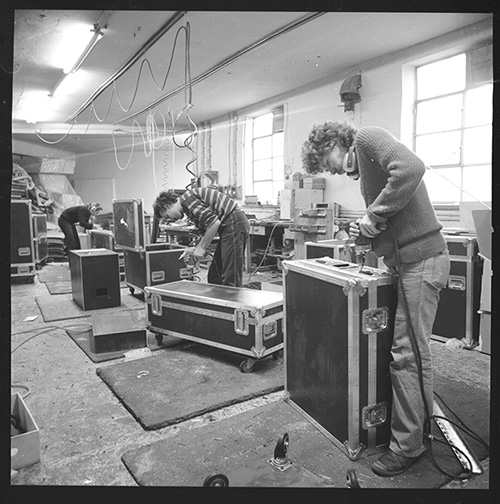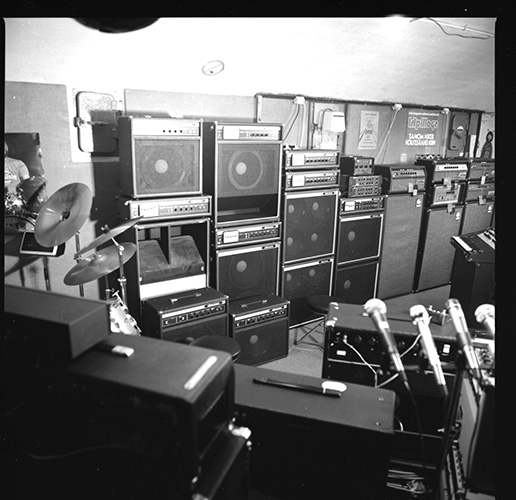 Amptown
Many know the name but hardly anyone knows where it comes from.
As far as we know, various musical equipment was imported from England and then sold here in Germany. There wasn't much space in the bunker at the Alte Wöhr, so the amps were stacked up to the ceiling (see photo on the left).
A customer who saw this said it looked like a city skyline, a city of amps... Amptown!
C.I.A with the Fantastic Four
Sustainability @ Amptown Cases